Business Continuity requires careful advance planning.
Could your business operate at 100% operational efficiency regardless of external events.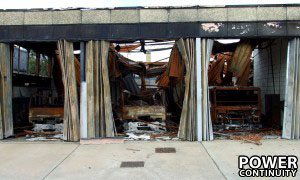 Business Continuity primarily requires an arms length approach to your company.
Can the company function, when dramatic unplanned issues arise out of the blue?
Part of business continuity is to firstly have a planned strategy.
Power Continuity Systems carefully review the following areas in minute detail:-
Power Failure –
Is your main comms environment power protection with Power Continuity systems.
Does it embrace both a robust UPS Power system and a Standby Emergency Generator?
Click here to find out for yourself whether your business is at risk or not, follow the easy steps click here >
Business Continuity at Head Office & Key Hubs –
Do these already have reliable functioning power protection?
Regular power control systems tested, maintained?
Mains fail test; turning off the main incomer without warning?
Site wide building load test confirm exactly what is not adequately power protected?
Business Continuity Remote sites –
Can you operate your business from a remote site?
By the same token, is the remote site also power protected?
Can the remote site run indefinitely on alternative emergency power?
In the event of a catastrophic event at your main control site?
Additionally, can your entire workforce operate from home?
Payroll –
Business Continuity covers more than just Power.
It includes the ability to pay your employees,
By the same token collect daily orders.
Dispatch goods
As well as maintaining productivity.
The financial bottom line-
Serious Business Continuity planning will make the difference between making a catastrophic loss or making a profit.
Think of it like this-
Let's say you have 100 personnel all earning £20 per hour and they can't function for 5 hours.
That's a cost to your company of £2,000 per hour.
And If you cannot process or deliver any orders that day, the cost can be £50,000 per hour.
Then you were not able to handle key customer accounts due to the inconvenience.
Unbeknown to you one of the key accounts was so frustrated they have planned to end their contract next year.
Loss to your company £500,000 +
Power Continuity and Business Continuity work hand in hand.
Not a flamboyant optional extra to a business; they are your life blood.
100% functionally operational in the event of a disastrous turn of events
Could you evacuate your present building today?
Not being able to return for days?
Forced to home work without warning?
It'll never happen to you?
You'll never have a power outage?
No one ever digs up our area?
We don't have vandals in our Town.
The national grid is always there 24-7.
Electricity in the sockets; gas in the pipes shortages don't happen in the UK.
Pandemics don't happen in the UK?
REAL LIFE scenario-
A member of staff arrives back from holiday and is suspected of having contracted a deadly infectious virus.
The local health authority arrive unannounced to seal off your building and carry out a forced evacuation.
Additionally, you're not told hold long it will last. Weeks? Months?
What business continuity strategy do you have in place today to cope with this?
A major fire breaks out in a neighbouring building; the fire service find toxic matter.
Seal off the surrounding area for days while they clear up.
You ad your colleagues have no access to your head office during that time.
PLAN B – Business Continuity
Business continuity planning would have facilitated a smooth relocation to PLAN B operational status.
Fast changing events no one can predict tomorrow,
Conversely, we can all prepare and be actively prepared. Power Continuity  and survive.
If you would like our FREE and impartial strategic planning assistance –contact us on 0845 055 8455 or Live Chat
Power Continuity Systems – your Business Continuity partner.
Continuous Power  involves uninterruptible power supplies combined with diesel generator emergency power backup systems
Operate at any time to provide Active Power Systems , that you control.
Be in power control of your future, no longer vulnerable to random external power issues.
Power Continuity Systems notwithstanding business Continuity
Power Continuity Means Business Continuity
For Business Continuity Planning please call 0845 055 8455 – We're here to help.
NEED HELP TO FIX PROBLEM ?
SEARCH FREE KNOWLEDGE BASE