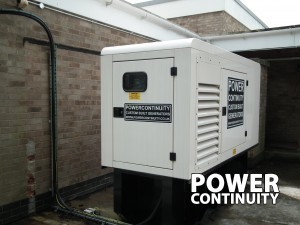 Power Continuity supplies multiple sized canopied generators. Diesel generators between 30kVA and 200kVA are generally contained within a 4 to 5 metre ( 10′)  acoustic canopy providing sound levels between 65 and 80 dBA at distance of one metre.
Purpose built acoustic canopies are available to cater for all your diesel generator sizes and sound attenuating performance.
For an indication of sound performance, a standard 80 dBA canopied generator would resemble the sound level of a transit van on tick over whilst 60 to 70 dBA being the level of a normal conversation at a distance of 3 to 5 feet.
Our acoustic canopies are purpose-designed to achieve the specified sound performance using a range of sound attenuating insulating materials and silencers on the exhaust system of the generator unit.
The choice is yours so tell us where the intended lcoation is to be and we can suggest a number of options.
For more information on How our bespoke acoustic canopies are built
If you're looking for
Standby Power Generation in a silent acoustic canopy
Call us on 0845 055 8455
We're here to help and build for you