Comms Rooms and Data Centres – Design and Build by PowerContinuity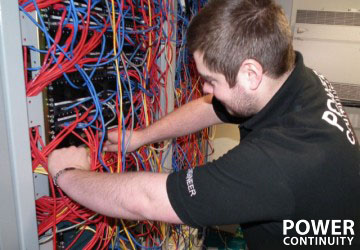 Comms Rooms Data Centres – Design and Build IT environments.
We offer total flexibility to meet the needs of your DATA applications in the most cost effective way.
IT Comms Rooms; whatever your choice of single or multi-module solutions.
Whatever you choose, we design a power protection solution to exactly match your requirements.
Albeit a permanent site or temporary installation.
Bricks and Mortar or Mobile containerised solution.
After all your comms room requirement maybe to protect a single cabinet rack.
Alternatively a data centre demanding high-reliability power. Air Con and Fire Suppression etc.
Choose PowerContinuity to future proof with UPS & Generator power systems.
Power control your Business Continuity Strategic planning, including Comms Room Environments.
 Comms Rooms Design & Build Environments
Call us now on 0845 055 8455
We're here to help – your critical systems in safe hands.
In the first place,
together let's decide on the best technical solution.
Power Continuity supply and install the complete Comms Rooms and Data Centres Environments.
Furthermore we include UPS power systems, Diesel Standby Generators and all ancillaries.
Whether permanent or temporary comms rooms and Data Centres. and discuss an appropriate service plan to suit your application.
Every company has its own mission critical criteria. When failure is not an option you require PowerContinuity
PowerContinuity design each Comms Room installation to your exact IT requirements.
Power Protection Systems comprising of either single or dual supplies.
UPS power systems comprising of single or multiple systems for ultimate power protection.
Emergency Power Generators of single or multiple power systems to share the load.
Air Conditioning Systems – State of the art – High Efficiency with Low power usage.
Fire Suppression systems.
Lighting , Cabinets, Racking etc.etc
Hostile Environments – High Local Temperatures, Ultra Low Local Temperatures, remote locations.
Power Control
Remote monitoring and control
Mobile Data centres
Temporary Data Centres
Scalable Data Centres
Scalable Comms Rooms
NEED HELP TO FIX PROBLEM ?
SEARCH FREE KNOWLEDGE BASE