Installation Diesel Generators inside a building
PowerContinuity Systems can design and install any size generator inside your  purpose built generator power room or retro fit a power plant into an existing building. Generally speaking power plant rooms are either basement or ground level as access is important. Although as you will see, PowerContinuity Systems regularly place generators on the roof of buildings, as well. In fact, let's look at any under ultisied space in your building to ascertain if we can place a generator and its fuel tank there. Our trained generator engineers can help ; a free site survey costs nothing. We're here to help.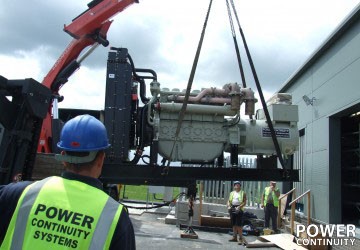 Sounding proofing is accomplished by bespoke louvers for  free flow ventilation of the generator reducing the external sound levels as well as lining the power plant room with attenuation. Click Here to see how we do this
Attenuation sections are large. These are usually 2 metres by 2 metres footprint by up to 3 metres high. Each is purpose built for the site. So dependent on what noise levels are required in the surrounding area outside of the building, Powercontinuity Systems can design and build to any specification to allow the use of your emergency standby generator. Click Here to see how attentuation panels are built
If in doubt, call one of our engineers on 
0845 055 8455
for FREE guidance and advice.
We're here to help
It costs you nothing to ask and one phone call can save you thousands
Here are typical acoustic sound levels which we can achieve for your building:-
Custom built sound proofing – We can custom build sound proofing into a new build or retro fit.
Standard Specification – 80 dbA or less noise emissions @ 1 metre in open field conditions
Silent Specification – 75dbA or less noise emissions @ 1 metre in open field conditions
Super Silent Specification – 70dbA or less noise emissions @ 1 metre in open field conditions
Extreme Silent Specification – 65dbA or less noise emissions @ 1 metre in open field conditions
Whisper Silent Specification – 60dbA or less noise emissions @ 1 metre in open field
Phantom Silent Specification – 55dbA or less noise emissions @ 1 metre in open field