Fuel Tank removal and Fuel Tank decommissioning.
What ever the size of your site fuel tanks we can remove and dispose of environmentally.
PowerContinuity is fully certified for the removal and safe disposal of fuel tanks and contaminated fuel.
Fuel tanks that are left unmaintained are a health & Safety hazard.
Let PowerContinuity remove your redundant fuel storage systems.
Fuel Tanks removed for safe disposal
Need advice with no obligation?
No problem, just call us on:-
0845 055 8455
We're here to help
Our experienced engineering team can advise before you make a decision
Removal- Disposal- Make Safe
Need to clean and re-use your diesel fuel?
Click here for our diesel fuel polishing service
Fuel Tank Removal – PowerContinuity Systems prides itself on being a specialist Contractor with unique expertise in the safe and environmentally sound removal and disposal of both specialist and general plant. This niche area is traditionally the home of the M&E design and installation sector but many Contractors now find the removal and strip-out related works an unprofitable irritation.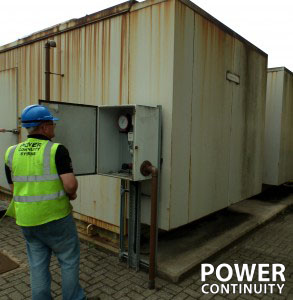 Due to PowerContinuity Systems's engineering background in decommissioning and removing specialist plant such as bulk fuel installations and large storage vessels; we have the necessary skills, personnel and competence to successfully complete the removal of more standard plant and services as well as complete the general soft strip of buildings prior to redevelopment.
Whether it's the patient and complex removal of specialist plant or the isolation and removal of a standard heating system; PowerContinuity Systems has a portfolio of specialist services that help create a truly unique solution.
Our services:
Specialist dismantling of heavy plant (industrial boilers, generators, elevator shafts, refrigeration units, chillers and manufacturing machinery)
Electrical decommissioning (lighting, power, telephone and data shut down and removal)
Mechanical decommissioning  (ventilation, air-conditioning, heating systems, pipe work and plumbing removal)
Specialist oil and fuel tank cleaning, degassing and removal
Confined space works (basements, shafts and risers)
Soft-strip (removal of fixtures, fittings and furniture etc)
General Strip-out (removal of floor screeds, partitions, windows, doors frames and ceilings etc)
Recycling (construction waste disposal and plant recycling)
Project Experience
Forecourt Decommissioning – Selfridges London
This is a recently completed project to de-commission the forecourt service station located to the rear of Selfridges department store in central London. The contract involved the complex removal of the under ground fuel storage tanks which were located in a concrete tank room within the Selfridges basement/car park. The concrete slab over the tank room was carefully dismantled by piecemeal and lowered onto an erected crash deck installed to specification. The basement walls were then carefully removed to allow the vessels to be cleaned, degassed and removed. Prior to the removal of the concrete a series of exploratory core holes and diamond drilling took place to ensure the concrete tank surrounds were removed and executed to plan, whilst protecting the integrity of the building. Health and Safety was of paramount importance on this project.
Heavy Plant Removal – Savoy Hotel, London
This prestigious project saw PowerContinuity Systems remove four 30 tonne standby generators and four 60 tonne boilers from the basement of London's show case Savoy hotel. The generators and boilers were dismantled by hand into sections weighing between 1 – 3 tonnes, and from the basement area sections were moved via a hoist and beam system which was installed, tested and certificated for purpose.
Works were severely hampered by the confined space Environment and the restricted access to the building for the removal of the generator and boiler sections. Following the safe removal of this heavy plant, the basements were jet washed with an Environmental cleansing detergent with the assistance of vacuum tankers parked 30 metres from the work area. These basement areas were then refurbished to suit the future requirements of the hotel.
Conveyor Sorting System Removal – Wembley
The conveyor sorting system, some 15 metres in height and the size of a football pitch, was dismantled and removed in sections. As each section was removed the works area was handed back to the Royal Mail to allow for ongoing sorting works to continue. Strict penalty clauses were put in place as the contract required completion in just eight weeks. The project was finished on time and the site handed back to the client's complete satisfaction.
Tank Fabrication – Bank of America, Canary Wharf
PowerContinuity Systems was invited to provide a cost and solution to clean and refurbish two 70,000 litre bulk fuel tanks in the basement of the Bank of Americas Canary Wharf Headquarters.
Following a survey of the site, that included complex MPI testing and sonic weld inspections, PowerContinuity Systems was able to offer the Client a highly competitive solution to clean, upgrade, repair and refurbish the bulk fuel system.
The project required PowerContinuity Systems to carry out re-fabrication works to the storage vessels and repair and upgrade works to the area in which they were housed. From the initial cleaning through to complex maintenance PowerContinuity Systems was able to offer a first class solution to the total satisfaction of the Client.
Aybrook Street – London
This contract followed an intensive six week demolition programme and involved the cleaning and dismantling of complex plant. All works were completed on time and in budget. The Scope of works included;
Site implementation and identification of items and services to remain in place
Removal of contaminated plant and mechanical services
Structural demolition of cores and risers
Chatsworth House – Maidenhead
This contract involved the soft strip of commercial office units and included the removal of the heating, ventilation and air conditioning and electrical systems. The project required carefully excavated trial holes to assess the stability of the existing steel works and concrete footings. The project was completed on time and within budget to the complete satisfaction of the Client. The scope of works included;
Isolation of the gas, electric and water services in preparation for removal
Removal of all electrical and mechanical services including air conditioning units
Site implementation and identification of items and services to remain in place
Removal of heating system and radiators
Removal of boilers and associated equipment from the boiler house