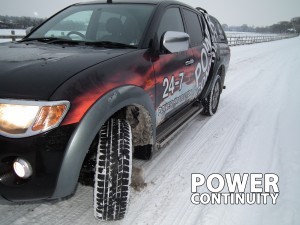 A remote location, whether a mobile phone mast or distant secondary site. PowerContinuity Systems has years of experience installing emergency backup generators in remote locations.
Every Installation has its own requirements. You may require a 7 day or 28 day fuel tank.
Even perhaps a UPS system as well as a standby generator power system.
Remote monitoring of the site by PowerContinuity is available for most mainland UK sites
If you have a remote location in need of a power protection solution
Then we're here to help.
Need advice with no obligation?
No problem, just call us on:-
0845 055 8455
We're here to help
Our friendly engineering team guide will guide you through the options
Here is a quick check list for you to evaluate what your site may require:-
1/ Will the site be manned or unmanned?
2/ Is there hard standing and a perimeter fence?
3/ Is there a requirement for 24 hour fuel tank or 28 day fuel ?
4/ Can a crane handle the terrain for access to place a generator?
5/ Or do we require one of our specialised 4X4 trucks?
6/ Any possible issue with sound levels?
7/ Will the generator be at that site for many years?
8/ Weather conditions? Sea Salt? High Altitude?
These are for starters and then we're there to assist you after a site survey
PowerContinuity for Installed remote site Backup Systems that you control
Design Build Installation Maintenance