Generator Maintenance
We arrange the necessary Generator service and Generator Maintenance visits to keep your Generator in peak performance always in accordance with the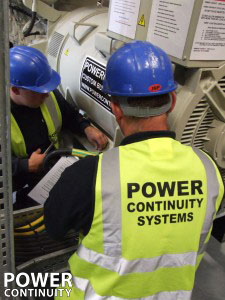 manufacturer's specification and requirements.
Generator Maintenance – All standby generators should be serviced every 400 hours or every 6 months, whichever comes first.  This ensures that your power protection equipment is always ready to protect your business, 24/7.
We provide service visits to keep your Generator in peak performance with 2 Generator Service and Generator Maintenance visits per year. No maintenance = failure !
Generator Maintenance Service visit A – to replace oils and filters as well as routine Generator maintenance.
What is entailed in an 'A' service? Click here
Generator Maintenance Service visit B – For routine generator maintenance etc.
What is entailed in an 'B' service? Click here 
Generators Operators
For additional information Click here
Generator Maintenance by Power Continuity Systems Any Generator professionally serviced and maintained in accordance with the manufacturer's specifications. Generator Maintenance is carried out by our trained engineers with decades of experience in the field, Nationwide.
Need advice with no obligation?
No problem, just call us on:-
0845 055 8455
We're here to help
Power Continuity is 100% independent and impartial.
As well as a choice of 4 hour, 6 hour, 8 hour or next day response 24/7/365 to site with the our dedicated 24 hour helpline, generator maintenance service visits are always booked in advance with named operatives for your security.Analyze Oil samples during the generator maintenance service visit –
We can also analyze your oils as an alternative to replacing the oil in much larger Generators
Load bank testing your generator to test its integrity can be done either with or without a generator maintenance service visit.  For more information on load bank testing, Click here
Batteries – Generator Batteries
Annual site visits to check your 5 or 10 year battery condition. As well as in most cases next day replacement to site.
Generator Relocation

Whatever the size of generator – 20kVA or up to 5 Megawatt – we can DE-commission, remove and dispose of a redundant generator system in accordance with the latest environmental legislation.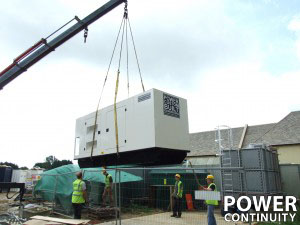 Most Generators can weigh a minimum of 5 tons including fuel, so free up your space.
If your system has been regularly maintained and documented there could even be a re-sale value.
Let one of our team give you a FREE valuation of your Generator system before it falls into disrepair.
Leaving an unused Generator to breakdown over time is a health & safety hazard.
It costs you nothing to find out. Click here for more information on generator removals.
NEED HELP TO FIX PROBLEM ?
SEARCH FREE KNOWLEDGE BASE