Data Centre Fire Suppression Installation Upgrade
Facility managers have a range of factors to consider when it comes to data centre fire suppression systems.
First Step is to carry our a Business Continuity Survey.
Data Centre Fire Suppression Installation
The primary fire protection systems used within data centers typically include:
wet pipe sprinklers, pre-action sprinklers, and special suppression gases such as clean agent, inert gas, or mist.
Data Centre Facility managers have a range of factors to consider when it comes to data centre fire suppression systems.
The combination of multiple servers converting electricity into heat creates the very real risk of fire in a data centre.
However, unlike other areas of your business, you cannot simply install a smoke alarm and standard sprinkler system.
Imagine the damage that this would cause to your expensive equipment & the potential loss of data.
That isn't even allowing for the time it would take to get your data centre up and running again.
Power Continuity Fire Suppression installations are individually designed for each Data Centre.
                                                                                                                                               
Data Centre Fire Suppression Installation action plan
In a data centre fire situation, you require a system that will act quickly.
Detecting the fire, sounding an alarm and then putting out the fire.
Whilst avoiding further risk to personnel and IT equipment.
It will also need to satisfy the requirements of your building's insurers.
PowerContinuity Systems install the latest technology and equipment in this area to provide you with the best possible protection.
We carry out a site survey to enable us to recommend the best possible system to suit your needs.
Below we outline two of the most commonly installed systems today.
Data Centre Fire Suppression Installation Options
Method 1 – Inert gas fire suppression systems for server room and Data Centres – Reduce Oxygen.
This method uses Argon/Nitrogen and sometimes a small element of CO2 to displace the oxygen in the server room.
It acts by rapidly reducing the oxygen level to suppress a fire.
Inert Gas Fire Suppression Systems
Upon detection of smoke and/or carbon monoxide and/or heat, an inert gas fire suppression system will rapidly fill the room.
The special mixture of inert gases, typically nitrogen and/or argon and possibly a small amount of carbon dioxide.
These choke the oxygen levels down to around 12-15%.
Rapid deployment starves the fire whilst retaining a sufficient amount of oxygen to sustain human life.
Considered an environmentally-friendly option.
As these are naturally-occurring atmospheric gases.
This system also has the advantage of being able to protect multiple rooms.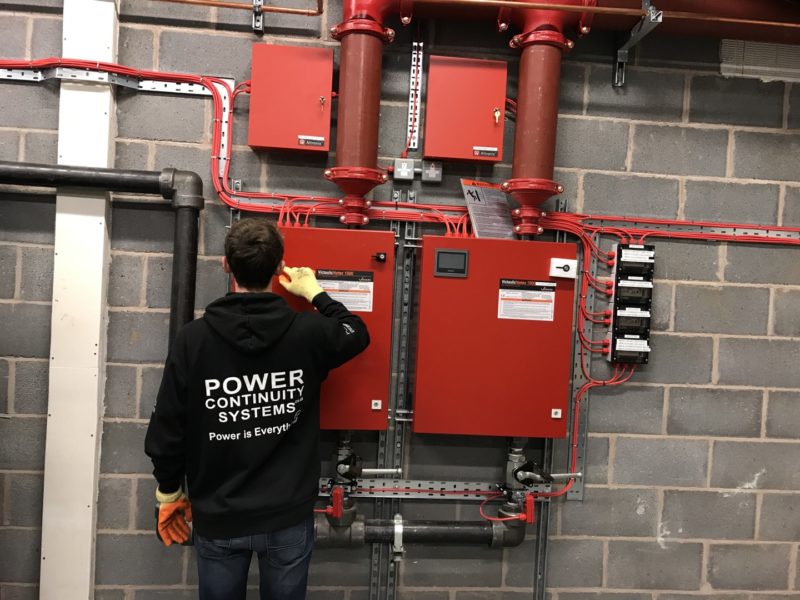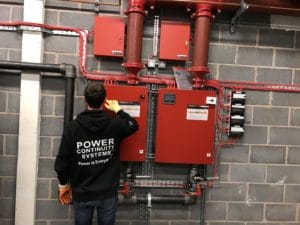 Pressure Relief Valves
Bear in mind, too, pressure relief valves have to be installed.
Once the system is activated, these relief valves disperse the rapid increase in room pressure.
For an inert gas system, allow sufficient space for the storage of the large compressed gas cylinders.
The cost of replacing spent cylinders also needs taking into consideration.
Water Mist Fire Suppression Systems
As a matter of fact, there is obvious concern regarding the use of water as a fire suppressant in a data centre.
However, specialised water mist suppression systems are significantly different from a typical sprinkler system.
Firstly, the pipes in the ceiling are empty when the system is not in use, removing the worry of water dripping on to servers.
Water will only enter the pipes when a fire is detected. Known as a pre-action system.
Secondly,  water forced at high pressure through tiny holes, creates a fine mist. Avoiding dousing the entire room. Quickly working to cool the fire as it evaporates.
The amount of water-damage is therefore limited to within a localised area. Keeping the
amount of water used within a localised area, to say nothing of the after-fire clean-up.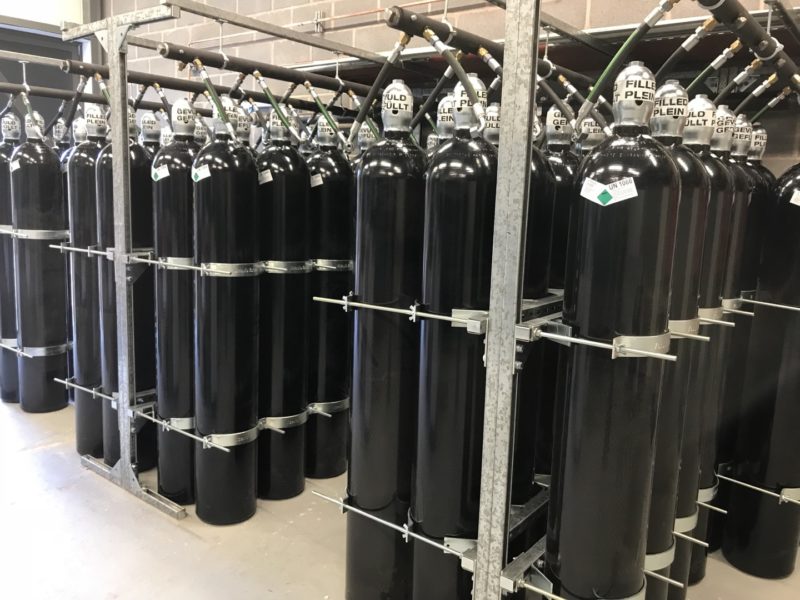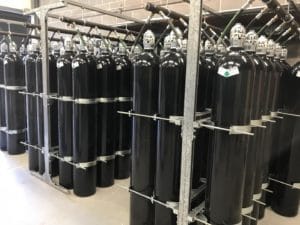 Power Continuity can assist with the design, installation and maintenance of your Data Centre Fire Suppression Upgrade
Call us on 0845 055 8455 – We're here to help 24/7
Also read the following helpful related articles