Load Bank Testing
Load bank testing to prove the integrity of Generators and UPS power systems.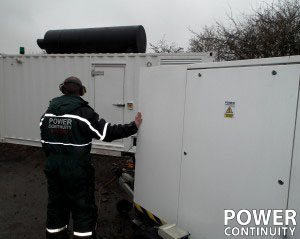 Power continuity load bank testing services completely prove the integrity of your systems.
We undertake load bank testing as part of our maintenance programmes , whether UPS or Generator.
Load Bank Generators and UPS power Systems.
As a matter of fact, ensuring all the components of your Power Continuity system is paramount.
Functionality is crucial to your critical loads, identifying any potential flaw in advance.
Weekly testing of UPS and Generator systems must be a mandatory part of all service regimes.
On the other hand, batteries, are also another potential weaknesses that will be flagged up with load testing.
Our mobile load banks (AC and DC) load bank in increments up to 2 Mega watts.
Call one of our engineers on 
0845 055 8455
for Load Bank Testing guidance and advice.
We're here to help
Power continuity will load bank test:
We come to your site, when you need us.
In working hours or out of hours.
All your critical systems are isolated throughout the load bank testing.
Correspondingly  there is no disruption.
Any make, any size, any location.
Be certain, 100% certain.
Test never assume.
Prevention is better than cure.
Power Continuity 
0845 055 8455
Resistive Load Banks
We're here to help