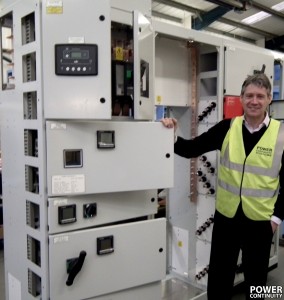 LV mains distribution boards consist of an extensible cubicle constructed switchboard which is all welded 2mm sheet metal framework designed and manufactured by Power Continuity engineers for reliability , strength and quality build. These completely modular internal assemblies are designed to allow for increased flexibility and are also manufactured from 2mm thick steel for strength and endurance
All our cubicle compartments are accessed via hinged lockable doors, which are also manufactured from 2mm thick sheet steel complete with double returned edges and neoprene gaskets for strength and quality.
All MCCB and fuse switch compartments  have door interlocked rotary handles, which are lockable in the Off position.
All our bus bar chambers and cable ways are accessed via bolt-on covers.
We have the Capability of testing the actual board rather than relying on calculations from isolated tests.
Functional tests of 100% rated systems in high integrity and onerous environments.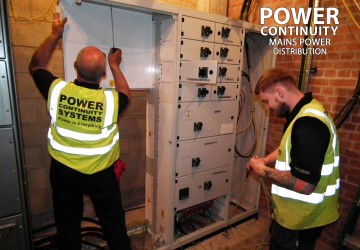 Power Continuity can design and build boards and switch panels up to 7000 A
We also provide a complete range of special testing including HV testing upto 33KV, G59 Parallel Testing, current injection testing, power factor testing, static transfer switch oscilloscope testing, thermal heat house testing.
Need a PDU?
Need a PDU with a static switch? Need a PDU with isolating transformer?  Need a PDU -complete panel board with integral mains distribution boards?
Need a Mains Distribution Board?
No problem, just call us on:-
0845 055 8455
We're here to help
NEED HELP TO FIX PROBLEM ?
SEARCH FREE KNOWLEDGE BASE