MV & HV Distribution Systems Require Regular Maintenance.
Out of sight should never be out of mind.
Live systems may have live life inside, here's an example…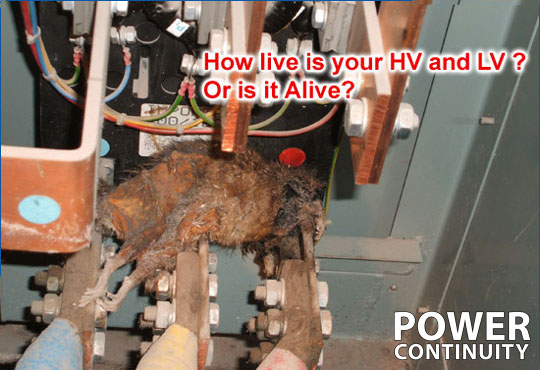 MV & HV Maintenance.
When the lights flicker, it may not just be your raw mains at fault.
Often the warmth and peace of your distribution boards can be a haven of life.
This creates a Power Health & Safety
Maintenance is prevention.
Power Continuity MV/HV and Switchgear Maintenance
PowerContinuity carry out complete MV & HV maintenance programs on most makes of transformers, switchgear and control panels etc including electrical tests, oil tests, physical inspection reports etc. We can plan this maintenance work to coincide with your annual company shutdown or out of hours.
Did you even think that without any maintenance schedule you may be missing out on your single point of failure. Out of sight shouldn't be out of mind.
Why not check out how alive your power supply really is before it's too late? Whether your site is a few hundred kVA up to 100MVA, PowerContinuity is here to help you.
MV & HV Installation and Maintenance
Call us now on 0845 055 8455
We're here to help
NEED HELP TO FIX PROBLEM ?
SEARCH FREE KNOWLEDGE BASE