UPS Batteries
Uninterruptible power supplies and UPS Power Systems are synonymous with UPS batteries.
Each UPS power control is supplied by the electricial storages within Lead Acid UPS Batteries known as VRLA.
Emergency Power UPS systems.
Factually, the only serious way to guarantee seamless and unbroken emergency power for critical systems is by using VRLA batteries.
In the event of a power failure your facility will use the power stored in these UPS batteries.
All  Uninterruptible power supplies and UPS Power Systems store their backup short term electrical power in lead acid batteries.
That is all Static UPS require batteries. Rotary flywheel UPS don't use batteries. Their energy is stored kinetically. Power Control without the hassle.
VRLA UPS Batteries
Batteries, for a short autonomy, are located within the UPS cabinet.
Longer Autonomy are stored on nearby racks allowing extended autonomy, which can from 5 minutes or up to 12 hours.
The longer the autonomy the more space required for the batteries.
For example- A 500kVA Static UPS with a 10 minute battery autonomy will require at least 5 tons of VRLA batteries.
Power Continuity systems engineers have over 25 years of UPS battery installation experience.
Replacing US batteries in basements as well as on roofs, on ships, in remote location sites.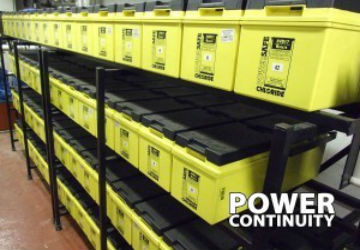 Power Continuity Systems design, build and install UPS battery power protection systems across the UK and Ireland.
The most well known companies in the UK are power protected by PowerContinuity UPS Systems
For UPS batteries and UPS battery builds call us on 0845 055 8455.
UPS Battery Autonomy – What is it?
UPS Battery Autonomy is Backup time available in the event of a power failure is calculated in minutes.
This is termed "The Autonomy of the System".
A 15 minutes backup battery time is then termed as having," 15 minute Autonomy".
Correspondingly, it equates to the amount of time in real time minutes, that your UPS is able to supply power.
Autonomously without any external GRID power source for business continuity.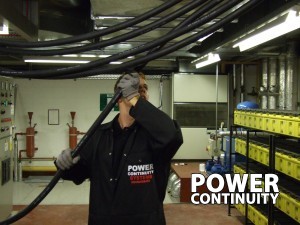 Need UPS Batteries replaced or just some advice?
No problem, just call Power Continuity on:-
0845 055 8455
our friendly UPS engineers are here to help.
Battery replacement needn't be daunting. We're here to help
UPS Batteries Storage & conditions –
The greater the UPS battery autonomy required, the more space required.
UPS batteries vary in weight from 5 kilos to 32 kilos each.
As a matter of fact, Power Continuity replaced the UPS systems at Britannia Building Society Head Office Complex in Leek.
There we installed 120 tons of VRLA batteries.
Every battery is placed in position by hand
Once installed,
all UPS  batteries have to be in a cool and damp free environment.
Power control ambient temperature of 18-22 degrees centigrade.
UPS Battery Maintenance –
All batteries checked by a trained engineer at least twice a year as part of the routine UPS maintenance.
Batteries are checked visually.
We test the current wave pattern.
As well as a battery impedance test.
Consequently, they are capable of holding the electrical power as stated on each battery.
UPS Batteries –
Power Continuity use globally recognised battery brands.
We never use so called 'own brand' batteries.
Got a preference of battery manufacturer? In contrast, we're happy to use any reputable battery maker of your choice.
UPS Battery Site Survey –
We can carry out a Free site survey of your UPS battery system at no cost.
Furthermore, we offer you a choice of Battery options to suit your budget.
Together, we achieve the most cost-effective battery replacement system.
UPS Battery system Design –
Power Continuity design from scratch purpose built battery backup system.
Furthermore, all the schematics and electrical drawings.
You have your own requirements –
This is never an issue.
Power Continuity know it's equally important to meet your company's personal requirements.
Useful UPS Information Document
UPS Installation Brochure (pdf)
 Power Continuity on:-
0845 055 8455
our friendly UPS engineers are here to help.
NEED HELP TO FIX PROBLEM ?
SEARCH FREE KNOWLEDGE BASE