Our UPS hire systems will protect your power sensitive critical equipment wherever and whenever you need short term UPS power protection.
Whether short hire or long term UPS hire/rental, Power Continuity temporary UPS can be installed inside or outside your building.
Alternatively, our containerised UPS systems temporary installation outside.
Protect your data services with our UPS hire systems
Prevent a data crisis before it gets out of your power control.
Emergency UPS Hire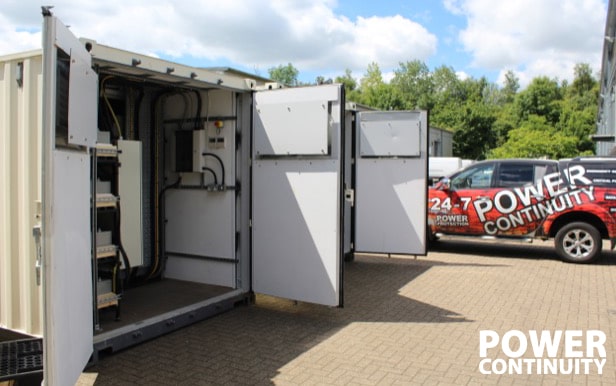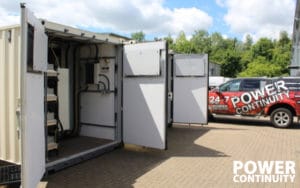 Need an Emergency UPS for any situation requiring absolutely 'no break' power? Then we can assist.
Our UPS rentals are available as 'temporary' installations in buildings ,furthermore we also offer containerised systems.
Not to mention each containerised UPS  has it's own ambient environment air con units, stand alone emergency power.
Power Continuity have a diverse and unrivalled range of UPS Hire systems from 30kVA up to 3 megawatts, flexible UPS solutions with varying autonomy.
All our containerised UPS systems have independent air conditioning N+1 within 'secure' 10ft and 20ft and 40ft ISO containers for safe emergency deployment.
Our short term and long term UPS rental options are available, whatever the needs of your business . Our own engineers install the complete rental solution.
Uninterruptible power is vital
Uninterruptible Seamless Clean power is vital in all critical business environments.Lose power and you lose more than just customer confidence.
Whether supporting critical IT communications or production manufacturing facilities, our Power Continuity  UPS rental / hire fleet comes with generator backed options.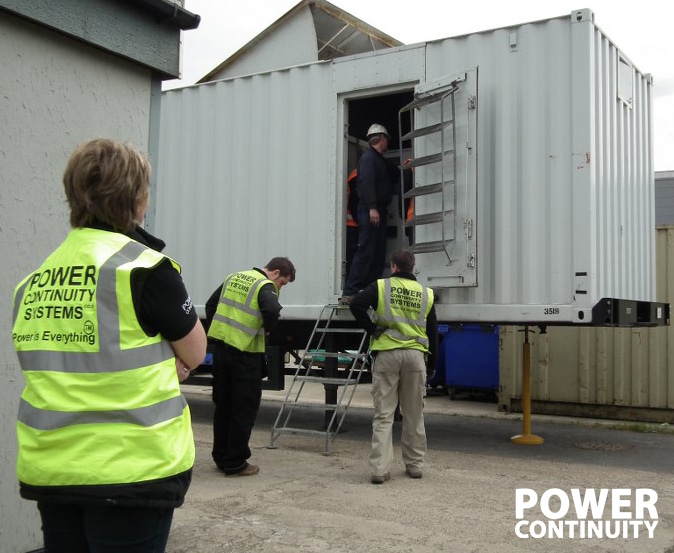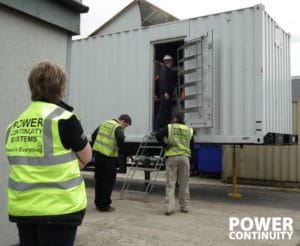 UPS Rental is a growing sector, especially useful when unexpected issues arise over public holidays or power failure unexpectedly hits your business.
NO need to purchase a brand new Large UPS system. Power Continuity UPS hire allows total flexible power protection 24/7.
Total turnkey temporary installations for both short-term and long-term hire periods. All fully installed, automatic with remote monitoring.
We maintain the whole system, both UPS and Generator systems as well as all associated switch gear.
Together with 'Peace of Mind' 24-hour emergency call out response.
Static UPS with VRLA batteries , all containerised for IT comms and Data Centres. For heavy industrial and production loads, containerised Rotary Fly Wheel systems.
Whether the requirement is for a 10 minutes back up or 7 days. Power Continuity is the only UK UPS hire company to have both Static UPS and Rotary Fly Wheel systems, ready to go.
UPS Short & Long Term Hire system quotation 
No problem, just call us on:-
0845 055 8455
our friendly engineers are here to help.
Maybe a Hire UPS is not enough. Need a generator backed UPS power system too?
Large outside concerts and events require both Generators and UPS to provide clean reliable continuous power. If you require a generator hire too, we're here to help.
Call Power Continuity for both UPS hire and Generator hire, all installed by our own engineers. 24/7 service and maintenance comes as standard.
All our Rental UPS systems are subject to availability.
UPS Hire for both short term and long term site hire – Power Continuity
NEED HELP TO FIX PROBLEM ?
SEARCH FREE KNOWLEDGE BASE