UPS maintenance and service by Power Continuity.
Regular UPS maintenance and service by our team of engineers with over 25 years experience in the field.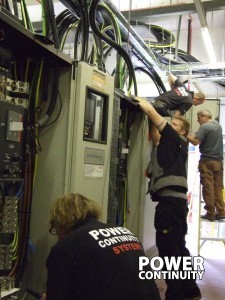 UPS Maintenance
Programmed UPS Maintenance and UPS service visits keeping the system in peak performance.
Power Continuity UPS engineers can also repair and maintain  all the major uninterruptible power supplies.
Load Bank
UPS Maintenance includes load impedance proving the integrity of the whole system.
Equally important is to ensure that your UPS system is regularly load banked
Parts and Spares
Maintenance and Service will protect your power investments
Power Continuity are 100% independent impartial power control specialists.
All our contract customers have the comfort of emergency response 24/7/365 to site as well as our 24 hour helpline.
UPS Batteries
Frequent battery replacement ensures that during any power outage , the power will be there.
Engineers carry out impedance tests together with current analysis annually.
Furthermore, when the battery replacement is due, Power Continuity handles the complete battery replacement.
Need a UPS Maintenance quotation or just some advice?
No problem, just call us on:-
0845 055 8455
our friendly UPS engineers are here to help.
UPS maintenance needn't be daunting. Let's Help!
UPS Removal and Disposal
Whatever the size of UPS – 20kVA or up to 5 Megawatt – we can DE-commission, remove and dispose of a redundant UPS system in accordance with the latest environmental legislation.
Most systems can weigh a minimum of 1 ton excluding batteries, so free up your space.
If your system has been regularly maintained and documented there could even be a re-sale value. Keep your UPS Maintenance service records safe as they are valuable. Never forget the standby diesel generator too.
Let one of our team give you a FREE valuation of your UPS service before it falls into disrepair.
Leaving a used UPS to breakdown over time is a health & safety hazard.
It costs you nothing to find out.
Useful Information Documents to Download
NEED HELP TO FIX PROBLEM ?
SEARCH FREE KNOWLEDGE BASE