UPS removals of any UPS systems
Whatever the size of UPS from 20kVA or up to 10 Megawatts.
Power Continuity DE-commission, remove and dispose of a redundant UPS system in accordance with the latest environmental legislation.
Most systems weigh a minimum of 1 ton excluding batteries, so free up your space.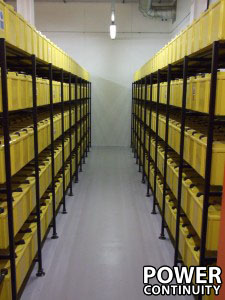 If your system has been regularly maintained and documented – it could even have a re-sale value.
Let one of our team give you a FREE valuation of your UPS system before it falls into disrepair.
an used UPS to breakdown over time is a health & safety hazard and it costs you nothing to find out.
Batteries especially can be a health hazard.
Power Continuity will environmentally dispose of the batteries from your UPS and open racks.
Our specialist handling ensures that Health & Safety are complied with at all times.
Power Continuity Battery removal teams handle tens of thousands of lead acid batteries every year.
An old unused UPS can be, not only a health hazard, but a fire risk too.
Leaking batteries are a potential fire risk. Just because the outside looks OK doesn't mean that everything inside the UPS is still safe.
If you are unsure ask Power Continuity for a FREE evaluation.
Need UPS Removal or UPS re-located?
No problem, just call us on:-
0845 055 8455
our friendly UPS engineers are here to help.
UPS Power Systems removal and re-location needn't be daunting.
We're here to help
NEED HELP TO FIX PROBLEM ?
SEARCH FREE KNOWLEDGE BASE